* * * * *
Part I: THE BUILT ENVIRONMENT & THE NATURE-BUILT ENVIRONMENT
Part II: ICONS & ICONOGRAPHY
Part III: THE PEOPLE
Part IV: IN & OUT OF THE HALLS OF POWER
* * * * *
From the Introduction
FIRST JOURNEY
In May of 1981, I set off for China on a mission. I would bring back as much of a record of the country as I could manage in one month. I managed three hundred rolls of film -- more than ten thousand photographs.
I was, unsurprisingly, taking pictures almost constantly -- even out of the window as we were bused from place to place, and even if it meant (as it frequently did), going without my supper, so I could walk through the streets when our group activities were finished for the day. In those days, the only way most Americans could travel to China was as part of a group.
People thought I was crazy. For sure, the people in the group in which I traveled thought I was crazy. Fifteen college kids out of Colorado, their professor and his wife, nine New Yorkers, and I, a Washingtonian who read the New York Times and found the ad for the trip there, were bound together for a month.
From the Chinese who caught sight of me, I heard, again and again, like a buzz in the background: Ta hen gao. Zhao zhao zhao. My two most salient features, to this audience, the two most remark-able, were: "She is very tall" (almost a six-footer). And, She is: "Taking pictures, taking pictures, taking pictures."
What, one might ask, could warrant burning through three hundred rolls of film -- ten rolls a day -- even with fourteen cities and towns and mountain tops to cover? Beyond the Forbidden City and the Big Wild Goose Pagoda and the Grand Mosque and the Great Wall and the Sacred Way and all their kith and kin, I saw a moment in time in the life of a country and a society that might later be lost, but could now be recorded. I knew what I wanted. As a kid, as a child of the Cold War, I had been "stationed" abroad, in Guam and Japan and Germany. By 1981, I had both a Master's degree in East Asian Regional Studies and the experience of a decade of work as a photographer and photojournalist, most of it in and out of the halls of power in Washington. I had models to follow, collections of photographs of China in now by-gone eras.
I set about to replicate their efforts, certain that the passage of time would give meaning to even the mundane, perhaps especially to the mundane. I recorded both the distinctive city scenes and historical sites, and the everyday activities of farming and eating and buying and selling and transporting goods to market and living life.
The PRC in 1981 was on the cusp of major change. Politics were about to usher in a new set of facts on the ground. The Third Plenum of the Eleventh Congress of the Chinese Communist Party had seen Deng Xiaoping return to power and a new line proclaimed. When I went to China almost two and a half years later, the new line had begun to be implemented, but ordinary people were not yet sure that it would triumph, and the new policies endure. The first, sometimes tentative shoots could be seen in, for example, "free markets" -- as in a farmers' market in Yan'an. Under Mao Zedong the exploitation of labor had been frowned on, but in Nanjing I found a lower-ranking cadre who had a maid for his small child. Cremation had been promoted in Mao's "New China." Burial in graves was discouraged as wasteful of scarce land. Yet in Ji'an in June 1981 I came across an early-morning funeral procession, which quickened its pace and tried to escape notice when discovered.
On the cusp, but not there yet. It was not just that we were managed by Group travel; we were monitored, and there were No-No's. No postcards talking about "Red" China, even in praise; no "It is dusty here in Xi'an." Though of course, it was. Not yet was I allowed to walk the halls of power in Beijing, as I did in Washington. Not yet, but eventually I would be. And the road to those halls would go through their mates in Moscow.
BIG BROTHER, ELDER BROTHER? 1984
By the time I left for the Soviet Union in July of 1984, I had three more years' experience covering Ronald Reagan's Washington. I also had managed for the first time to do an explicitly political trip to one of the communist countries. Can they reform? was the question. Almost directly after my return from China, I found a visa took for Poland and the Ninth Congress of the PUWP (Polish United Workers Party), the ruling party, waiting for me. I took off for a tour of the major cities and hot spots of Solidarity-era Poland. Four months after my return, the Polish regime itself imposed martial law and put an end to political openness. Many had feared that Moscow would do the job.
My first trip to the Soviet Union allowed no such access anywhere near the seats of power. Brezhnev had been in power at time of Solidarity. Already a couple of years later, he and his immediate successor, Andropov, had both died, and it was the time of Brezhnev's Chernenko.
George Orwell had made 1984 famous. Or rather, notorious. Andrei Amalrik had capitalized on that notoriety by writing a book asking, Will The Soviet Union Last Until 1984? It was halfway through 1984, and I was making my first journey to the Soviet Union. The first people I had talked to casually in the USSR had been hauled away, and I had seven weeks to go.
This time I designed my own trip. I had studied Russian language and history, and Soviet politics and economics, in college and graduate school, and I had my 1981 China and Poland trips behind me. Now I wanted to see the motherland of communism for myself. I was working as a photojournalist in Washington; I had carved out seven weeks between my assignments photographing the Democratic Convention in San Francisco in July and the IMF-World Bank Annual Meeting in Washington in September. Seven weeks to sample all the major regions of that one-sixth of the landmass of the planet: fifteen locations -- the Baltic, the Black Sea, the Caucasus, Kiev and Moscow and Leningrad, the Volga-Don region and Siberia and Central Asia -- with temperatures ranging from a high of 113 degrees Fahrenheit to a low of 40 degrees. Officially, it was summer.
In seven weeks of wandering around on my own I was to be taken over and over again to be part of the scenery, assumed to be a local photographer working the central city tourist spots, or just someone useful to ask directions of. When I was heard to be not a native Russian speaker, the guesses as to my origin ranged widely. One of my favorites was being taken to be a "sportsmen" from the GDR -- an athlete from East Germany -- a tribute, I assumed, to my being almost six feet tall and strong. What seemed not to be credible was that I could possibly be an American -- an American woman traveling alone over the face of the Soviet Union. In 1984.
For 1984 was the last year of Ronald Reagan's first term, a time of a Cold War newly heated up, before Nancy Reagan helped convince the president that peace made a more useful historical legacy. It was the summer of the Los Angeles Olympics and the Soviet tit-for-tat retaliatory boycott of those Olympics (we had devastated the Soviets by boycotting their 1980 Moscow Olympics after the invasion of Afghanistan). It was the summer of Ronald Reagan's "joke" in the warm-up to a Saturday radio address, a "joke" declaring "Russia" an outlaw nation and announcing that the bombs would fly in five minutes.
The very next year Mikhail Gorbachev had arrived to head the Kremlin. Five years after that, in the summer of 1990, there was a sense that the Soviet Union was very much up for grabs, if not down for the count. Finally, I was going to be able to cover my first Congress of the CPSU (Communist Party of the Soviet Union), its Twenty-Eighth, and, as it turned out, its last.
* * * * *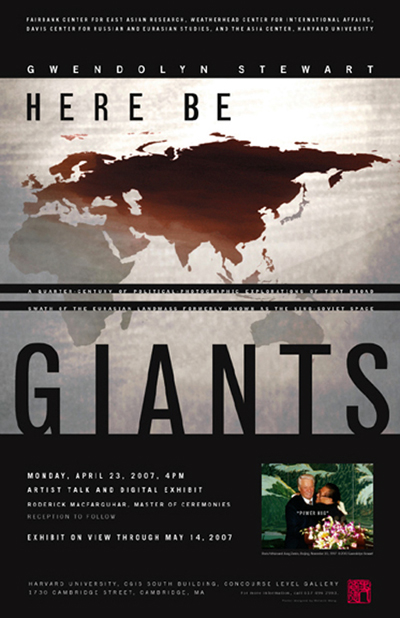 * * * * *
GWENDOLYN STEWART is both a photojournalist and a political scientist specializing in political leadership in Russia, China, and the U.S. A former Bunting/Radcliffe Fellow, she is an Associate (and former Post-Doctoral Fellow) of the Davis Center for Russian and Eurasian Studies at Harvard, as well as an Associate in Research of the Harvard Fairbank Center for Chinese Studies. For the Fairbank Center she co-founded and co-chairs the China Current Events Workshop, a forum for examining pressing issues in Greater China. Her Harvard Ph.D. dissertation (Sic Transit) dealt with the role of the leaders of the republics, especially Boris Yeltsin, in the breakup of the Soviet Union. She is currently writing RUSSIA REDUX, the story of Russia under Yeltsin and Putin: part political analysis, part travel-memoir. Imagine wandering over the largest country on earth, not in the train of a railroad, but in the train of one of the most powerful and contradictory men on earth. Or all by yourself.
* * * * *
Other Work by GWENDOLYN STEWART:
GWENDOLYN STEWART: MORE PHOTOGRAPHS & MORE ABOUT THE AUTHOR/PHOTOGRAPHER
* * * *
A PICTURE A DAY, INCLUDING MORE PHOTOGRAPHS FROM HERE BE GIANTS
* * * *
* * * *
* * * *
* * * *
JAMES A. BAKER LEONARD BERNSTEIN THE BIG DIG BILL BRADLEY GEORGE W. BUSH
BILL CLINTON GAO XINGJIAN MIKHAIL GORBACHEV HU JINTAO &nbsp JIANG ZEMIN JANIS JOPLIN
BARACK OBAMA &nbsp TIP O'NEILL &nbsp RICHARD PERLE
© Copyright 2014 Gwendolyn Stewart. All rights reserved.